Residential Electrician Serving Littleton & Castle Rock, CO
---
With over 45 years of experience powering homes, you can count on us for all your electrical installation, repair and emergency service needs!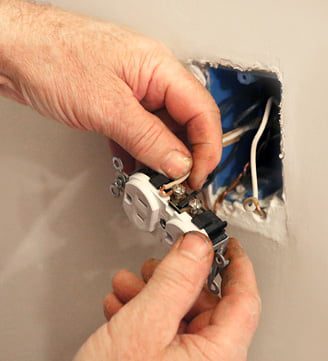 Though often referred to as a "modern convenience," electricity is a necessity for your home. Without a reliable electric supply, you cannot cool or warm a building, cook food or power medical equipment. Inability to do any one of these things puts your health, and even your life, at risk. Electric Blue, Inc. offers electrical installation, repairs and emergency services to homeowners across the Denver area. With our help, you and your family can live in safety, comfort and convenience.
We're Littleton's Top-Rated Residential Electrical Contractor
Though headquartered in Littleton, Electric Blue, Inc. serves homeowners throughout the Denver Metropolitan area. For nearly four decades, our team has consistently earned the praise of local homeowners thanks to our commitment to understanding the specific needs of Denver houses. We have detailed knowledge of the local climate, lighting conditions, weather patterns and other factors that affect the demand for, and risks to, electrical supply. We take all of these factors into account when installing, inspecting and repairing your equipment, ensuring that your electrical system will remain fully functional under even the most difficult conditions.
Besides establishing an electrical system that is strong from the start, we are also happy to make emergency repairs if anything goes wrong. Our team will travel to your house, survey the damage and develop a solution that not only restores safety and power, but prevents similar problems from arising in the future. No matter how serious the emergency, Electric Blue will be by your side until it is resolved.
Reliable Lighting Solutions for Your Castle Rock Home
Electric Blue, Inc. installs and repairs lighting and light fixtures for your home, landscape and all other areas of your property. Our goal is to not only improve visibility and convenience but also minimize energy use by using the latest lighting devices.
Professional wiring services by a highly-recommended electrician.
The Electric Blue team provides the full range of electrical wiring services, including:
Temperature control wiring to provide your home's climate control system with all the energy it needs, no matter the conditions
General electrical wiring
Aluminum wiring for homes with aluminum electric conductors
Wiring for video surveillance systems, alarms and other security features
Data cabling, coax cabling and other transmission cable services
Electric Blue, Inc. offers electrical services in Littleton for all your electrical needs. Residential services can range from home electrical services to apartments, condos and any other living spaces. Our services are not restricted to size and we'd be happy to help you. We are also 420-friendly, for those who ask.
Our Promise: Integrity and Craftsmanship Above All
At the end of the day, Electric Blue, Inc. is thankful for your continued business in the Denver Metro area. We are honored to work in your home or commercial space and to show our level of professionalism. Electric Blue, Inc. extends a commitment to "integrity and craftsmanship above all" to our clients.
Our Residential Electrical Services
A few of our specialties are:
Work with designers to provide the ambience of your home
Eliminating glare
Highlighting architectural features
Low voltage lighting installation
Lighting installation interior and exterior
High ceilings and entryways
Electrical panel and service power upgrades
Additions
Basement remodel
Landscape lighting
Lighting repair/new fixtures
Coax cabling
Lighting retrofits/studies
Scheduled reoccurring facility maintenance
Property management services
Code violation repair
Power metering
Temperature control wiring
Service upgrades
Aluminum wiring connections
Video surveillance systems
Design and planning
Smoke detector and carbon monoxide maintenance
---
Don't leave your house vulnerable to power loss, fire or shock. For more information or to schedule service, contact Electric Blue, Inc. today.