The Top Littleton, Colorado Commercial Electrician: Offering Installation, Repair, & Emergency Services in the Metro Denver Area
---
We focus on high-quality workmanship with safe, efficient and trustworthy solutions for restaurants, retail outlets and a wide range of commercial properties.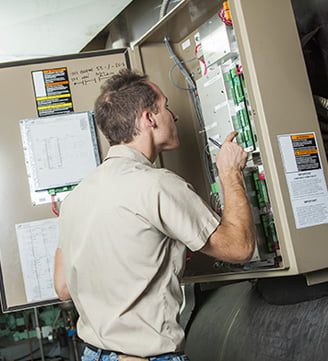 With the possible exception of coffee, no energy source is more important to modern business than electricity. Firms require a reliable electric supply for everything from climate control and data storage to lighting. Even the briefest interruption can undermine all of these services, leaving a company unable to do business. As a professional electrical contractor in Littleton, CO, Electric Blue, Inc. provides the commercial services you need to power up your Denver area business.
Let Our Knowledgeable Electricians Develop an Efficient Solution for Your Business
Electric Blue, Inc. has extensive experience serving a range of different businesses in the Metro Denver area. Our services include:
Commercial Lighting – We illuminate parking lots, landscapes, building interiors, and all other
areas relevant to your business. We install the latest devices to minimize energy use and maximize efficiency and are happy to carry out
lighting retrofits and studies.
Tenant Finishing – We provide lighting, wiring, and other electrical services for rental buildings, ensuring that your tenants have all the power they need.
Data Cabling – We perform cabling on all buildings, supplying you with fast, reliable network and all other forms of communication.
Temperature Controls – We offer wiring and equipment installation for climate control systems. With our aid, your office can stay warm in the coldest winters and cool during the most sweltering summers.
Emergency Services – Whether you are dealing with a sudden power outage, exposed wiring, or any other electrical equipment failures, our team is always ready to help. We are happy to travel to your business, diagnose the problem, and implement a lasting solution.
Electric Blue, Inc. serves Denver commercial customers of all kinds. Whether you are wiring new builds or updating equipment on existing offices, we promise to provide the highest standard of electrical service.
Protect Your Property: We Offer Reliable Fire Alarm System Inspection and Installation Services for Homes in the Greater Denver Area
One of the most important electrical functions for your business is fire prevention, which is why the Electric Blue, Inc. team makes fire, smoke and carbon monoxide alarms a priority. We offer:
Fire alarm inspections to detect broken alarm systems before they put you at risk
Repairs and upgrades to keep your life safety systems fully functioning
Inspections and repairs for carbon monoxide, smoke and gas detectors
In addition to making sure your electrical systems are working, we minimize the risk of a fire when installing and repairing electrical
equipment. You are unlikely to have a fire in the first place, but if you are, your alarm system is sure to warn you.
Expert Commercial Facility Maintenance, Repairs, & Troubleshooting by a Top Denver Electrical Contractor
For nearly four decades, Denver area businesses have consistently ranked Electric Blue, Inc. as one of the top electrical contractors in the region. Our reputation is due in no small part to our focus on every stage in the electrical process. In addition to installing the most efficient electrical equipment on the market, we can conduct regular inspections on that equipment, identifying both current damages and likely sources of future risk. Whenever we detect a problem, we make the repairs and upgrades necessary to eliminate it for the long haul. We thus save our customers money and effort by lowering the risk of electrical problems in the future.
Whether in an office building, public space or restaurant, we can help your commercial space run safely and efficiently. Here at Electric Blue, Inc., we are committed to helping our clients feel secure and satisfied with their electric systems.
Our Commercial Electrical Services
A few of the tasks we can complete are:
Site/parking lot lighting installation
Landscape lighting
Lighting repair/new fixtures
Data cabling
Coax cabling
Lighting retrofits/studies
Tenant finish
Thermal energy images to locate bad devices and breaker overheating devices
Installation and repair and maintenance testing of emergency egress and exit lighting
Scheduled reoccurring facility maintenance
Code violation repair
Power metering
Temperature control wiring
Service upgrades
Fire alarm systems
Video surveillance systems
Fire alarm system repair
Fire alarm inspections
Fire alarm monitoring
Ground up new construction
Design and planning
POS system wiring
Infrastructure wiring such as irrigation control power, architectural exterior lighting, entryway and sign lighting.
---
Electric Blue, Inc. is always ready to serve commercial and industrial clients, as well as residential customers, in the Denver area. To learn more about our services or schedule facility maintenance for your business, contact us today.