24/7 Master Electrician Serving Industrial Properties in Littleton & Castle Rock, CO
---
Our experienced team understands the complexity of industrial electrical systems, machine wiring and the unique needs of manufacturing facilities.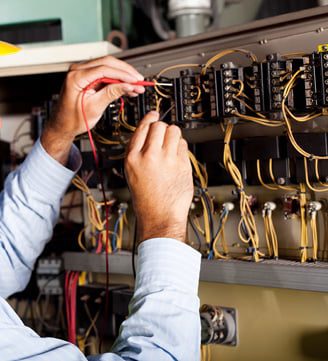 Modern industry cannot function without electricity. Not only is electric power necessary to keep industrial equipment running, but it also powers alarms, security systems and other safety devices. Electric Blue, Inc. offers premium electrical services to all industrial customers. Operating in Littleton and Castle Rock, CO, we provide the repairs, upgrades and inspections you need to keep your business efficient and safe.
We Offer a Complete Range of Industrial Electrical Services
Machine Wiring – We wire all industrial machinery according to the manufacturers' specifications, making sure to minimize shock and fire risk while maximizing operational efficiency.
Custom Industrial Equipment Services – For industrial firms that have unique equipment needs, we provide a range of customized services. This includes not only wiring but also development services and other work to make sure the equipment is safe and efficient.
Connection Services – Through soldering, pressure connection and other methods, we link industrial devices seamlessly to their connectors. This provides a steady supply of power while lowering the chance of electrical hazards.
Raceway Inspections – We inspect cables and conductors to make sure that their cross-sectional area is no more than 50 percent of the raceway's area, eliminating a source of risk.
Having served Littleton, CO and the Denver area for nearly four decades, we have a detailed understanding of local industries' needs. Regardless of what type of equipment you use or what you use it for, we have the experience and expertise to serve you effectively.
Safe and Efficient Solutions for All Your Industrial Electrical Needs
We are committed to aiding all of our customers through:
Lower Energy Use – By installing the latest electrical equipment and keeping existing equipment in full working order, we prevent wiring and other problems from causing undue increases in your electricity bill. This allows you to produce at full capacity while keeping your energy costs and environmental footprint to a minimum.
Improved Efficiency – Besides lowering the cost of your electricity supply, we improve its reliability. This minimizes the risk of interruptions in the production process, further lowering the cost of production and allowing you to get your products to market on time.
The Electric Blue, Inc. team understands that no industrial firm can afford to wait for electrical services, which is why we are always ready to serve your business. No matter when you call or what the problem is, we are committed to fixing it as quickly as possible.
---
Electric Blue serves industrial, commercial and residential customers across the Denver area. For more information on professional electrical services, contact us today.